Year of grant : 2021
Amount of grant approved (TZS): 1,067,187.63
We funded COWOCE to implement a Pig Passion Project in November 2021. This allowed them to construct 25 pig huts, purchase 50 piglets and 6 boars which were shared between 4 vulnerable families. The project is in its early stages but is going well and piglets are expected in February 2022.
The main objective of the project is to reduce poverty among women by strengthening household income through establishment of pig project.
"To empower Women, Children and the community with the right tools that help them to fight diseases, ignorance, poverty and all forms of discrimination through education, empowerment and participation"
As the picture shows, this project has so far achieved some of the goals we wanted to achieve!
This is what Helena, one of the beneficiaries of this project, told us when we asked her what it meant for her and those around her to be involved in this new initiative.
Read the full report here.
Magdalena Kafula one of the project beneficiary is enjoying seen piglets are breastfeeding from their mother. This lady has the toal of 12 Piglets from 2 Pigs . It is unbelievable that after 5 months from now she has an opportunity of getting almost TZS 2100,000.00 from selling of 7 pigs from her stock.
This is Joan Prosper the project officer for Pass on Pig Project on her duty of doing monitoring and evaluation along Restuta France's Pig hut. Joan has been witnessed doing seriuos M&E as part of her daily duties and that has contributed on the success of this project.
Cleaning of the Pig hut and Pigs is part of the project management strategy , Mrs Elizabeth Charles is
doing her duty as she has been instructed during inservice trainings.
The Pig Manure can contribute to high yield if is effectivelly utilised by Pig keepers, see how
effectively has contributed to higher yeilding after being used as manure by Helena Charles.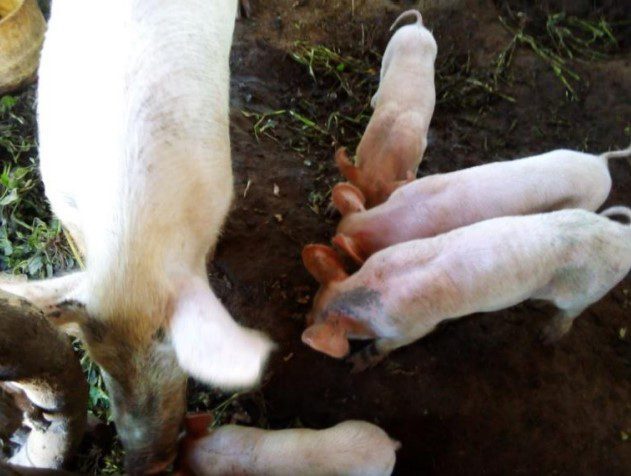 Zubeda Kitwana is the student at Mwangulumbi secondary School, She has managed to go as far as form three because of the financial support acquired from this project. As part of thanks giving to COWOCE organization and her mother she normaly participate in Pig management soon after she returns from school.
Read the full and updated report here!
To discover more about the social and economic effects of small-scale pig farming in Shinyanga, Tanzania, clik here.